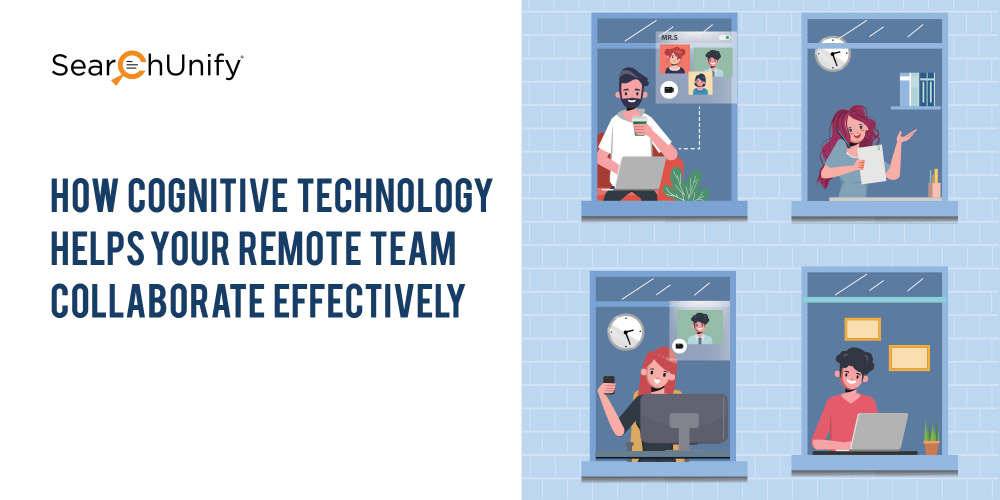 Remote working is the new norm. Though the research says that telecommuters are more productive than those commuting to the office and working, collaboration among remote workers remains a challenge for many.
One in three home workers (35%) is worried about collaborating with colleagues and clients. As more teams go digital and turn to remote work, it's important to remember that the kind of swivel-your-chair-and-ask-your-neighbor-to-get-a-quick-answer approach you can afford in an office setting doesn't necessarily translate online. You're at the mercy of communication tools (Microsoft Teams, Skype, Slack, Google Hangouts, Zoom, the list goes on).
Now, your team might be using the state of the art collaboration tools; they are great, but they have limitations. And we're not talking about outage issues here; we're talking about the real question – are your remote working tools serving the purpose; are they enabling your teams to find, access, share, and organize information scattered across disparate silos and collaborate effectively?
Remote working thrives on effective communication and collaboration; the underlying purpose of all the communication and collaboration is sharing information in a timely manner. Cognitive technology empowers your collaboration tools to serve this purpose. Please read on to learn how:
It Helps You Tap Into The Unstructured Communication Data
Collaboration and communication tools are not just saviors of telecommuters; they are the treasure troves of valuable information. There are files and important links shared across all these tools all the time. But this data is not organized and it becomes a challenge to quickly and seamlessly access this information when required. A cognitive search engine instantly indexes and integrates your team collaboration software with other enterprise platforms to ensure seamless access to the most relevant information from this scattered data.
Long story short, your support agent, while responding to a customer query in the service console, can quickly retrieve the help article link her mentor shared with her via Slack, without leaving the service console.
It Makes Your Remote Collaboration Tools Intelligent
When you're communicating virtually, you won't know what the other person is doing at the moment. They might be at their desk (or bed) or they might be anxiously trying to connect to a zoom meeting. There will be moments when you need a colleague & the person will be swamped with work and can't respond to your query right away. But you require that file or answer now before you join your own meeting.
A search-aided chatbot integrated with your chat tool can come in real handy in this situation. Once integrated with your collaboration or communication platform, it answers your questions right in your chat window by fetching data from all the information silos across your enterprise. SearchUnify's chatbot for Slack helps your teams retrieve the most relevant information stored across your information repositories in whatever format – right inside the Slack chat groups. So the users won't have to navigate manually through vast silos of data. They can just find, share, and retrieve files right when and where they're collaborating/chatting.
It Empowers You To Customize User Experience For Your Teams
Working from home kinda gives you & your employees a feeling that you're on your own. Introducing a flurry of technology in your environment itself is not the silver bullet. The key when working with these tools remotely is optimizing them for each employee's processes and workflows, like when they're searching the intranet for information. Most remote workers feel demotivated & disengaged not because they don't have enough tools to their rescue, but because they aren't optimized to suit their needs. This, in turn, leads to inefficiency.
To eliminate the problem at the root, you can provide a way to personalize collaborative work management solutions. One way to do so is by focusing on your enterprise search. What you want to do is customize results, and with a search-powered chatbot, it's easy and scalable. While interacting with the SearchUnify chatbot inside Slack, your team members can dig deeper with easily selectable facets and search within particular categories—content sources, content types, categories, objects—and the chatbot will display answers from the selected categories. This way you turn disengaged employees into empowered employees.
It Helps You Make Information Accessible Smartly And Securely
Chatbots that are smart and truly powered by AI have the ability to learn and add multiple synonyms and abbreviations for one keyword/phrase. This makes sure that the users are finding relevant information as well as training the chatbot at the same time. SearchUnify's chatbot allows the admins to modify the synonym list as well.
With remote working teams, one of the major concerns of enterprises is information security. They want to, and need to, be extra cautious while enabling people to share information to ensure that nobody can access any data that they are not authorized to access. Search-powered chatbots are smart enough to differentiate between users based on their roles, behavior, permissions, and interests and display information while respecting all role-based access permissions, hence bringing clarity & order back to remote working.
Want to enable your remote teams to collaborate more effectively?
If your team uses Slack for collaboration, you can take their efficiency and productivity to the next level by enabling them to discover, access, and share information quickly, smartly, and securely. To see it live in action, request a demo now!