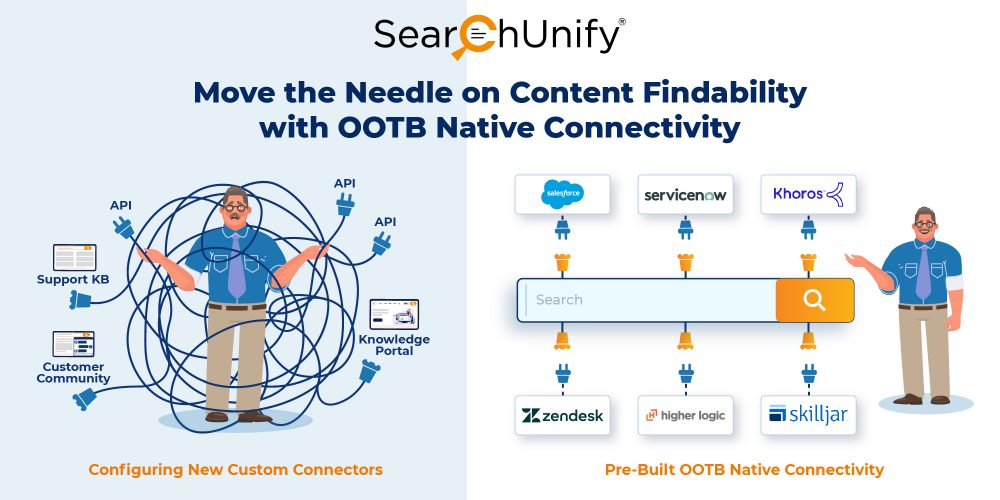 Imagine this: agent X runs a search to resolve a user query. The search engine starts rummaging through your enterprise data and returns with four possible solutions. However, it failed to find two items that were more relevant to the query. Siloed data sources sit at the center of this whole debacle.
That makes it paramount for enterprises to harness the power of a unified cognitive platform to ensure the silos work in tandem. It uses robust out-of-the-box connectors to unify disparate content repositories and redefine information discovery. With prebuilt OOTB connectors, enterprise solutions can crawl and index all the repositories to provide agents with all the requisite information at their disposal, anytime, anywhere.
This blog post deduces the various ways OOTB connectors beat out configuring a new connector for individual content sources. But, before that, let's dive right into what makes OOTB connectors an indispensable component for your enterprise.
Benefits of OOTB Connectors
Aligns Seamlessly with Your Tech Stack
With OOTB connectors, you can easily integrate and index the blog posts, user groups, case resolution data, emails, online brand community, tickets, etc., from different websites, platforms, or products. This provides your support team with a unified set of results from across your entire organizational knowledge.
Promptly Adds New Content Sources
OOTB connectors allow you to easily and effectively add new content sources to the index. This ensures direct access to your entire knowledge pool, which helps internal and external users effortlessly find helpful content irrespective of where it resides.
Simplifies Upgrades
Implementing OOTB connectors is not rocket science. In fact, it's a plug-and-play solution that comes with native integration for multiple platforms. It ensures secure and seamless deployment with no downtime and no coding.
Lowers Maintenance & Training Costs
When out-of-the-box connectors are mounted side by side, the training and maintenance costs dip significantly. For starters, OOTB connectors eliminate the need to hire professionals who develop connectors and index required content.
OOTB Connectors: The Way Forward
While integrating core systems should be a no-brainer, it can feel like drudgery that requires endless considerations. With OOTB connectors, you can easily integrate disparate back-end systems and skip the complex developing or setting up process altogether. Here's how OOTB connectors facilitate peak performance and beat configuring a new connector each time a content source is added:
Granular Access Controls
It is ideal to follow the principle of least access, where users can only access the information they need. Some OOTB connectors come with ingrained access control that prevents and mitigates tampering, leaking, or otherwise malicious use of sensitive information. Their intuitive interface ensures you can easily control access to both object and field-level security on all platforms. This way, OOTB connectors help you bid adieu to any concerns around information security.
Incremental & Adaptable Syncing
Siloed systems hinder your ability to provide an unrivaled digital experience across touchpoints. To move beyond such constraints, you need OOTB connectors that guarantee fuss-free syncing along with flexible indexing abilities. Doing this enables you to crawl content sources at a predetermined time and frequency, as convenient. For instance, you can work on a crawling timeline based on any major website or content changes.
Quick Deployment with Minimal Engineering Effort
Speedy deployment and flexible integration of OOTB connectors enable organizations to respond quickly and efficiently to any integration requirements that might surface. Exploit the full potential of OOTB connectors by easily connecting to web services and APIs, building scalable back-end services, supporting complex data integrations with low latency, and integrating workflows with bare minimum efforts.
Simplify Data Ingestion at Scale
The backbone of any analytics structure is its data ingestion layer. For optimal and contextual results, OOTB connectors must possess the following features: metadata coding, content type extraction, and the ability to ingest & tag rich media. This enables the search engine to pull content from multiple sources and push it into a single search response.
Want to Ensure Relevant Content Stays OTT (On The Top)? Deploy OOTB Connectors!
Regardless of whether you're looking to elevate information discovery on your portal, integrate numerous platforms for a delightful digital experience, or convert data into valuable insights, SearchUnify is your very own genie in a bottle!
SearchUnify's 35+ native connectors help make its implementation process rather effortless and creates a unified discovery experience for your agents and users alike. Request a free demo and unveil the magic of our OOTB connectors today!