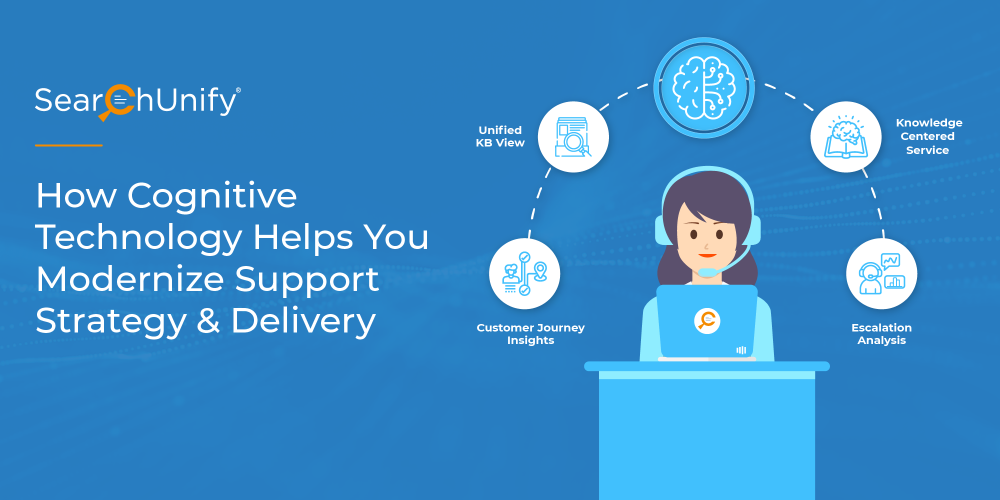 Delivering exemplary customer service is non-negotiable for businesses to remain profitable in the long run. One wrong move and all your efforts go down the drain. In fact, 33 percent of Americans say they'll consider switching companies after just a single instance of poor service. We cannot emphasize enough the importance of customer experience and how support teams need to be more proactive and efficient than ever before to retain customers.
As per Temkin Group, companies that earn $1 billion annually can expect to earn an additional average of $700 million within 3 years of investing in customer experience. For SaaS companies in particular, they can expect to increase revenue by $1 billion.
Over the years, the role of customer support mavens has evolved from simply handling customer inquiries to building long-lasting customer relationships and flourishing the business. In such a scenario, equipping them with conventional tools and technologies won't do any good. This is where cognitive technology comes into the picture. By offering a suite of AI-powered apps built on top of a cognitive framework, it enables significant changes in the way modern support desks operate and deliver next-gen customer experience. Let's see how.
On Future-Proofing Support Strategy
A robust support strategy is usually built on the following four pillars ― Self-Service Experience, Personalized Relevance, Support Efficiency, and Customer Satisfaction.
Having to wait incessantly on hold for a solution is such a turn off for customers. Therefore, they prefer to self-serve over human contact. If customers are unable to resolve any complex issues on their own, then their final resort is support reps. Imagine the degree of frustration if support reps also fail to help customers be better. This is where artificial intelligence and cognitive technologies come to your rescue. By leveraging predictive support and performing situational analysis, they empower agents to resolve queries efficiently in real-time. Here's how.
1. Drives Self-Service Success
Gone are the days when a phone call was the only option for customers to reach out to a support team. In fact, 67 percent of customers prefer self-service over human contact nowadays. After all, in the digital era where everything is available at our disposal in just a few clicks, who'd want to wait endlessly on hold for a solution?
AI-powered cognitive tools improve the findability of relevant information across your digital properties — irrespective of where it resides. They learn with each click and digital interaction to decipher user behavior in order to tune and personalize search results. Furthermore, its insights engine helps glean actionable intelligence such as content gaps, customer journey, etc. to help you proactively improve content and experience on your self-service portal.
According to Gartner, 91 percent of organizations are planning to deploy AI within the next three years. In fact, a billion service tickets will be raised automatically by customer-owned bots by 2030.
2. Reduces Average Handle Time
The time taken by a support rep to handle a call — starting from call connection, talk time, hold time, and follow‑up work — accounts for Average Handle Time. Research conducted by HubSpot revealed that customers are not as frustrated with slow response time (19%) and inability to self‑serve (14%) as they are by repeating themselves to multiple support reps (33%) and long hold times (33%).
Therefore, the need of the hour is a futuristic technology that provides your agents with a unified view of the entire knowledge base. That is where cognitive technology kicks in. By fetching the most relevant case resolving information such as top SMEs, top related articles, etc. in real-time, it empowers your support agents to resolve more customer queries in less time. It also presents the complete customer journey so that customers don't have to repeat themselves amidst any call transfers and escalations, ensuring seamless handoffs.
Call Centre Helper Magazine recommends that the average handle time should be about six minutes. This can vary from company to company though.
3. Goes Beyond Search
Although with the automation of support processes, AI has already made your lives easier. However, it's time to step-up your search game and go beyond the simple automation of mundane processes. Leverage the best-in-class cognitive tool to reap the benefits of predictive technology such as Escalation Predictor.
By performing situational analysis, AI-powered Escalation Predictor gauges the nature and severity of complaints in real-time to identify tickets that are likely to escalate in the future. Then, it smartly sorts, triages, and routes these cases to the best-fit agent in order to optimize the resolution process and take timely action before things spiral out of control.
In an ideal world, you should aim for an escalation rate of zero percent. Nonetheless, an escalation rate of 10 percent or less is justifiable.
4. Improves First Call Resolution
The number of customer support queries that are successfully resolved right at first time amounts to First Call Resolution (FCR). By equipping your agents with cutting-edge technology and tools, you can empower them to understand and resolve customer queries at first blush. This way, you don't just improve the brand experience for customers but also eliminate monotonous and redundant tasks, making agents happier and more efficient.
Generally, the industry benchmark for FCR is between 70 and 75 percent. However, percentages will likely change depending on the method you use.
5. Drives Knowledge-Centered Service
One common challenge that organizations face with KCS is its incorporation. It is often considered an additional task that hampers agent productivity. However, cognitive technology comes with a suite of apps, including KCS Enabler, that make KCS a part of the workflow. It also accelerates knowledge creation processes so that you don't have to reinvent the wheel time and again.
KCS Enabler assesses the health of KCS-generated content to monitor content performance and quantify KCS success. It also measures and quantifies the success of top contributing articles to reward the authors and encourage them to curate more such content. In fact, the average team that adopts KCS sees a 30-50 percent increase in FCR, 20-40 percent in employee satisfaction, and 10 percent fewer support requests.
Looking for the best cognitive technology to deploy to your enterprise portal?
Customer service experts opine that an intelligent search engine is a must-have tool to meet the rising customer expectations. However, choosing the best fit from the pool of cognitive tools can be quite tricky. Here's an eBook 10 Key Considerations For Evaluating A Cognitive Search Solution that will come handy. Download it right away and choose wisely the cognitive solution that best aligns with your organizational goals.