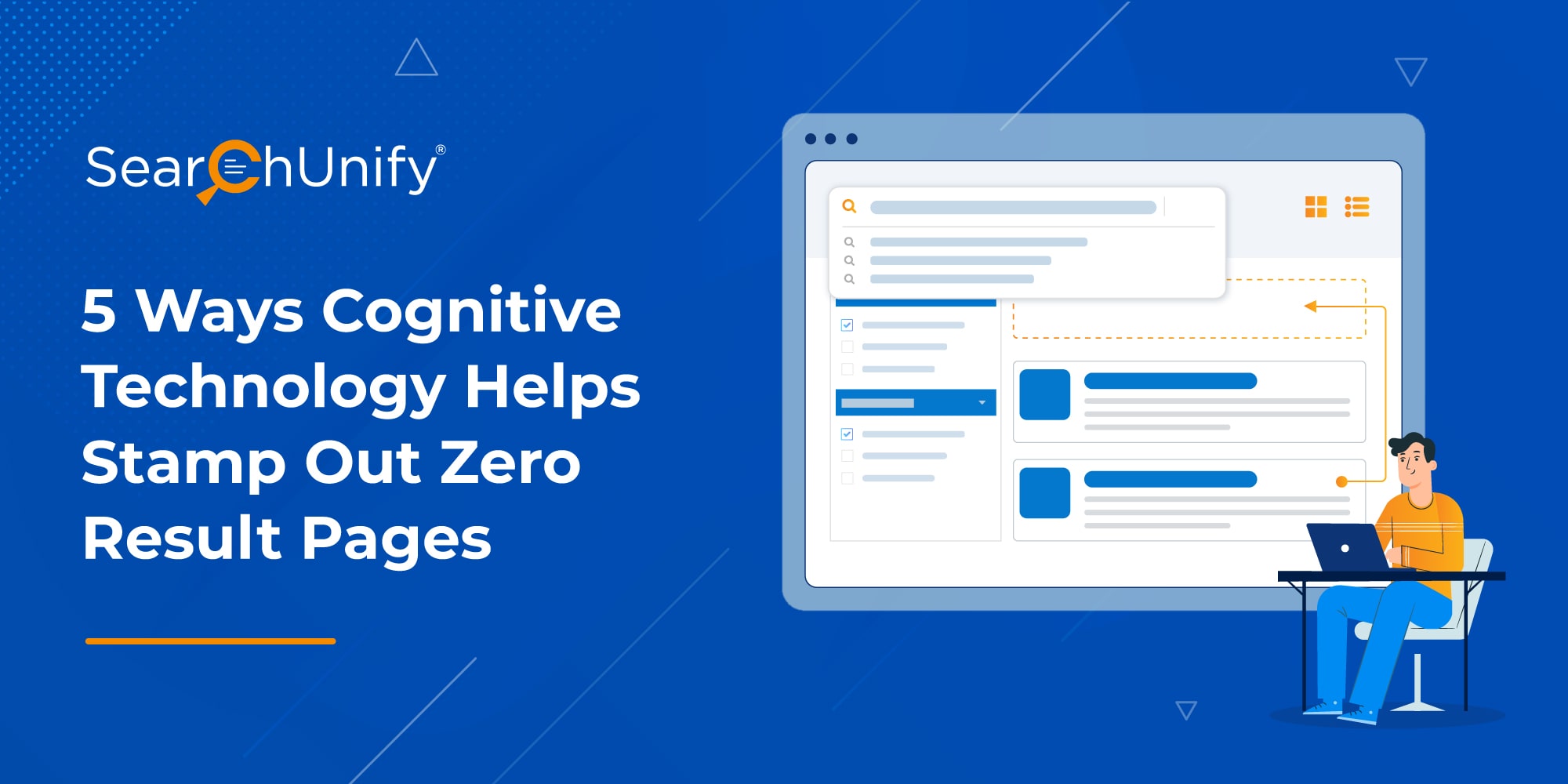 Gone are the days when customers used to settle for mediocre experiences. Along with immediacy, they want accurate results. However, no matter how much you prepare, there will always be one odd query that generates an empty or 'No Results' page. Planning for such inevitable dead-ends is at the heart of delivering a superlative customer experience.
Research says that it takes just 50 milliseconds for users to form an opinion about your website.
Since users make snap judgments, think about the impact a 'No Results' page would have on CX. Sometimes, users come across a 'No Results' page even when the content exists. Most firms are working towards eliminating empty search results as it leads to site abandonment by valuable users.
This is where cognitive technology comes into play. This blog post discusses five essential elements to help users recover from a search query that doesn't yield any results.
5 Ways Cognitive Technology Helps Eliminate the Zero Result Page
1. NLP-Fueled Search
Utilizing natural language processing makes search more relevant by inferring the searcher's intent and deconstructing complex queries. It helps extract the correct context from a search query. NLP-fueled search parses through data and maps synonyms to present the most relevant results, irrespective of what users type. Thus, eliminating the chances of a zero result page.
2. Autocomplete and Suggestion Management
Autosuggest is a search feature where the search engine predicts the queries and suggests alternate recommendations while the user types in the search box. With suggestions, users can not only refine their search but also find relevant results faster. This way, optimized predictive search reduces the chances of returning no results.
3. Intelligent Spell Check Feature
To err is human. More often than not, we tend to misspell words. However, a good search engine is equipped to identify those words and suggest the correct spellings with the 'Did you mean' feature. Additionally, advanced search engines fix minor typos and filter punctuations to generate the best results.
4. Personalized Search
Two users might require different solutions for the same keyword, this is where personalized search plays its part. A good search engine analyzes a user's browsing history, past purchases, interests, etc., to generate contextually relevant content. Technologists from around the world preach the importance of personalization to improve the relevance of search.
In the words of David Weinberger, "Personalization is the automatic tailoring of sites and messages to the individuals viewing them, so that we can feel that somewhere there's a piece of software that loves us for who we are."
5. User-Driven Analytics
Each time a customer interacts with a site, they leave valuable insights about what they want. These insights help companies answer some of the most burning questions that impact their bottom line. With site-search analytics, you can learn about the top and low-performing content, popular searches, bounce rates, etc., and then proceed to fill the existing gaps, if any.
But What If There Really are No Results?
A great search experience equates to quickly delivering what the users want. However, searches that don't fetch any results or rather fetch a 'No Results' page can disrupt this seamless experience and cause undesired frustration. Since search is an iterative and evergoing process, optimized site-search is a key component to promote the discovery of related content.
For starters, you can review the search queries that returned zero results using the search analytics dashboard. Next up, you can either tweak the search settings or create new content altogether. In the meantime, don't forget to add recommended and contextually relevant content to reduce the bounce rate. Finally, ensure that every control on the page is productive and doesn't lead to another dead-end.
Lean on Relevance to Eliminate 'No Result' Pages
Precise and relevant information is the driving force to transform a dead-end into a pathway forward. Add cognitive technology to the mix and you'll have all the components required to create a robust search.
Want to learn more about how cognitive technology helps deliver relevant results and steps up your customer support game? Then, take a look at this e-book titled 'Your Complete Guide to Enterprise Search Relevance' and stay one step ahead of user expectations, always!