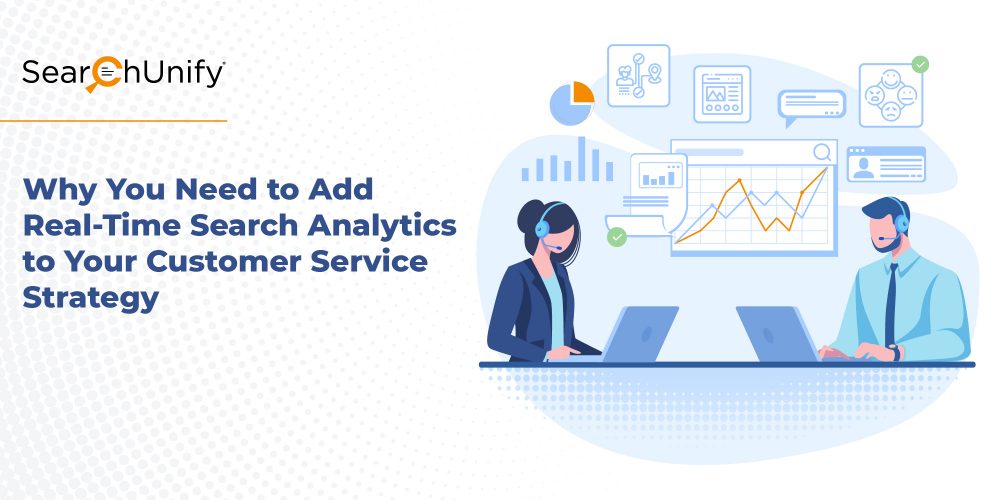 Shep Hyken advocates that your customers want a boring customer service experience. Yes, you read it right. But this statement should not be confused with providing average service. Customers want consistent, personalized service from a brand that they can trust, and they want to keep having that.
The key is–knowing your customers and being able to anticipate what they want. And this happens when you have a 360° view of their digital footprints. But how can you empower each customer service representative with having a complete view of each client's journey?
With search analytics! Below are some of the ways that real-time search analytics helps your customer support teams.
1. Provide Visibility into Customer Journey and Improve AHT and FCR
With a plethora of self-service portals offering articles for fixing issues, customers explore quite a few things before reaching out to your service representatives. Customers expect, at every touchpoint, for the support agent to know their transaction history.
With search-powered analytics, your CSRs get real-time insights across different company touchpoints, i.e, consolidated interaction records in a single place. So, when a customer calls or sends an email, your agents are equipped with all the information ranging from–searches performed, pages viewed, clicks, conversions–irrespective of the platform. This unified view of customer history enables agents to respond quickly and accurately, earning customer trust & bolstering CSAT.
2. Predict New Issues and Deliver Proactive Support
Deep analytics create detailed, yet user-friendly reports which provide a bird's eye view of incoming cases and other useful metrics. This helps support managers to spot new, or repeated issues that need more attention.
With all the information at hand, agents can be trained accordingly which helps reduce stress when they interact with customers. When agents are in a better position to answer customer queries, it builds their confidence, lowering agent attrition rate. And when an agent performs better, customer relationships are automatically strengthened. Talk about killing two birds with one stone!
3. Triage Incoming Tickets and Route Them to Right Support Agents
Managing the support ticket queue is strenuous. Some dreaded tickets keep bouncing from one agent to another, sometimes, one department to another–simply because they're too difficult. This is a serious problem, given the fact that three-quarters of online customers expect help within five minutes.
Hence, it's extremely important to strategize and define your case routing rules. And this can be done efficiently with real-time insights from a variety of factors–source channel (email, social media, etc.), topic, product/service, agent skill set, etc. This way, search analytics helps increase the chances of assigning the right case to the right agent at the right time!
4. Analyze Data in Tickets for Offering Personalized, Contextual Responses
To provide exceptional customer service it's important to understand customer sentiments when they are raising a ticket. This helps your support agents to elevate conversations with customers by adjusting their tone of communication.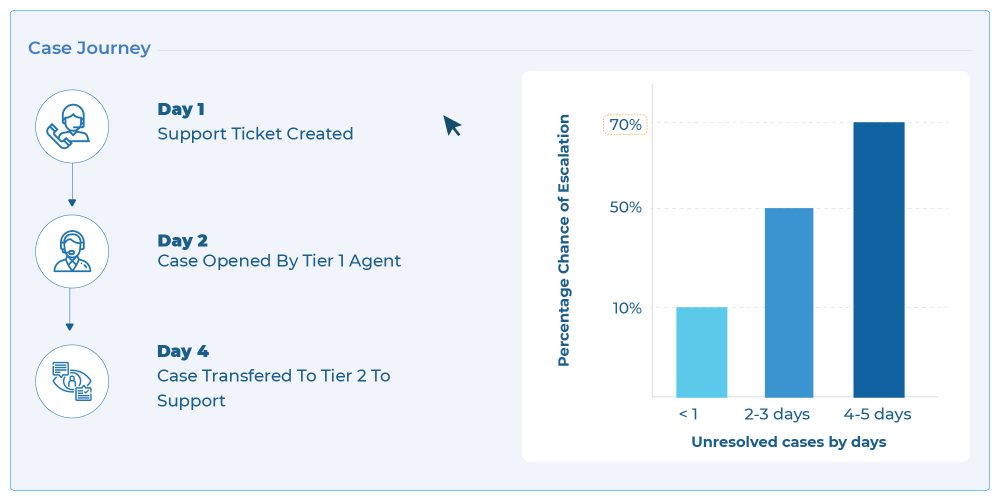 Analytics-powered apps extract keywords to identify customer sentiments using NLP and guide service reps. For instance, if a customer has raised a ticket and is reaching out to one of your support agents via chat on day 4, the app will present the agent with the case journey so far. Not only will the current agent know who has worked on the ticket before but also smart insights, such as %age of chances of escalation. Since the average wait time for chat is merely 45 seconds, this will improve the quality of customer interactions manifold.
5. Bridge the Content Gap and Identify Areas of CSR Training
Just like everything else in this world, your customer service needs to keep improving. Search analytics provide a comprehensive view of cases raised last week, month, and quarter. Advanced solutions also present leading ticket creators along with their session details–what they searched, browsed, clicked, etc. Support managers can pinpoint the root cause of tickets and fix it permanently.
The reports also help in understanding the gap in your support content. More the KB articles, better your customer service. Detailed reports monitor the generated articles and identify top contributors. This serves as a great way to gauge the efficacy of your KM program.
Want to Provide a Consistent, Personalized Customer Service Experience?
Your customer service strategy is missing an extremely important ingredient if it's not personalized. Download a support leader's guide to delivering a personalized customer service experience and see the difference in your CSAT score.