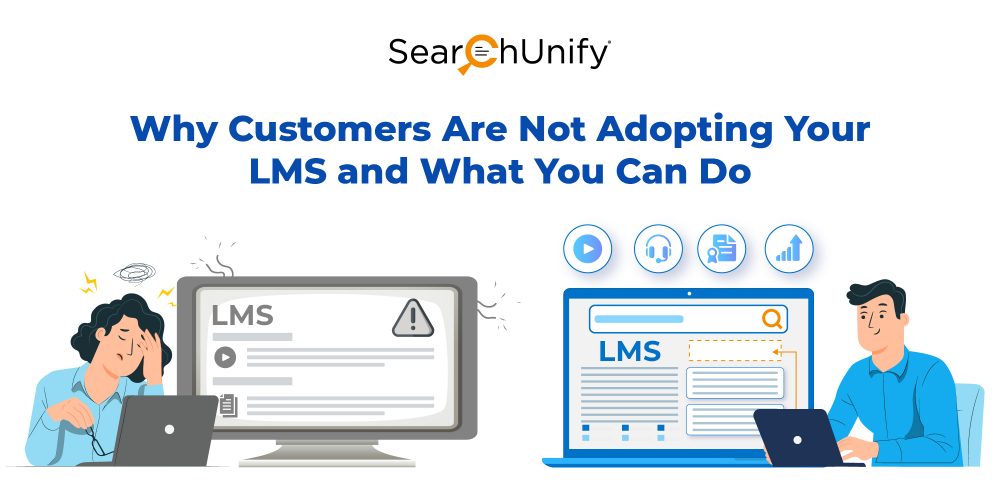 Let me run you through a hypothetical scenario. If it sounds not so hypothetical to you, this blog post is definitely for you.
Dave and Judy are friends and work in the same organization but different projects. They go out for a quick lunch break at a nearby restaurant. After chit-chatting for a while, they inevitably end up talking about work.
Judy: I am so frustrated lately. We have replaced our support community software. Thanks to the vast user base, customer queries are popping every hour. Customers are annoyed with the switch, and the support agents are overwhelmed.
Dave: Ah, I faced something similar, too. But we had our Learning Management System (LMS) in place for deflecting support cases and answering such customer queries.
Judy: We have that too, but the problem is nobody is visiting it. No matter how much I update the articles on it, the views are few to none. It's like dancing in an empty ballroom.
If you have a B2B business or are selling complex products, this scenario might be relatable. If it is, please read on.
Why Having An LMS is Good but Not Enough
Your customers need to learn about the product or service they choose. And in case something changes their experience, say an overhaul or major release, they might require additional guidance, right? That's where a learning management system (LMS) can come in real handy. It trains your customers to derive more value from your offerings while keeping the support tickets in check.
But simply implementing an LMS is not enough. It won't be of much use if the customers don't use it. Even if you've taken care of the basics such as providing a mobile-friendly platform, excellent video content, and easy UI, making the LMS a key component of the customers' kit can be a bit grueling.
Six Clever Ways to Improve Customer LMS Adoption Using Cognitive Search
1. Make Your LMS Content Easily Searchable
Customers might be visiting your online community, technical documentation site, or any other portal for getting answers to their questions. But in case that topic has been recently added only in your LMS, they won't find it and proceed towards case creation.
You can make your LMS content easily available to customers wherever they are by integrating it with different portals. Cognitive search makes it a piece of cake. It unifies different content repositories, including LMS, so that when a customer searches for anything on the community, fitting results even from the LMS portal are displayed. And once customers start noticing that they always find helpful content on LMS, adoption will follow.
2. Boost Selective Content on Your LMS Portal
According to TSIA, there has been quite some change in the nature of support tickets.
Unlike a decade ago, not all support tickets are about break-fix technical issues. The percentage of incidents relating to procedural questions, i.e., how to use the product, etc., are on the rise—particularly for SaaS companies.
And to get answers, customers frequent your knowledge bases. Now, there is a possibility that you would want them to check out certain LMS articles for specific topics as opposed to other content. A cognitive search engine allows managers to tune or boost articles manually, so they show up higher in customers' search results. When customers start associating your LMS with useful answers, they'll start checking it.
3. Personalize Learning Paths for Users
Anything that's personalized for an individual will always have more chances of getting adopted. If you're taking into account the user role and history of articles browsed to present related recommendations to customers, they will check it out.
A cognitive search engine, powered by ML algorithms, takes into account all the things mentioned above and provides an intuitive, personalized user experience on your LMS platform. It also helps you create individualized learning paths for customers. Based on whether it's a new user or an experienced individual, the search engine suggests relevant content to drive user engagement and adoption.
4. Attach Learning Media Links To KB Articles
Company culture matters a lot. You need to promote your LMS content on the right platform. If you've recently gotten an LMS or shifted focus to it, and previously your customers were flocking towards some other support channel, they won't switch in a day.
The best way to navigate the change is by asking your support agents to attach the LMS content links within KB articles and community discussion threads. You can also encourage LMS adoption by promoting contextual links via chatbots when customers ask queries.
5. Focus on Your LMS Metadata And Filters to Improve Findability of Content
Organizations have thousands of content pieces. Now, at the backend, your content might be classified into learning, support, marketing, etc. Even then, the LMS metadata is crucial for a cognitive engine to populate the right content. Hence, you should focus on enriching it to increase the relevancy of search results.
To provide smooth LMS experience, you need to provide smart facets that help users in filtering relevant content. A cognitive engine pre-selects the most relevant facets based on products/versions owned by a customer. It also allows customers to include or disclude content based on different categories ranging from the date created, content type, data sources (documents, blogs, discussions), etc.
6. Fill the Content Gaps and Further Enrich Your Learning Content
If you've finally succeeded in bringing your customers to your learning program, make sure you leave no stone unturned when it comes to the search experience. If they are, due to any reason, unable to find the content they're looking for, they won't bother coming back.
A cognitive search engine also offers rich insights into how your content is performing. It provides detailed reports highlighting what users are finding more useful, what they're not finding at all, and much more. These can be leveraged to fill existing content gaps to create more robust learning modules.
Want to improve case deflection on your support portal? Here's your complete guide!
Improving LMS adoption is only one part of the strategy to drive self-service success. If you want to learn more about how cognitive search can help you improve case deflection and self-service on your support platforms, here's a complete guide for you.