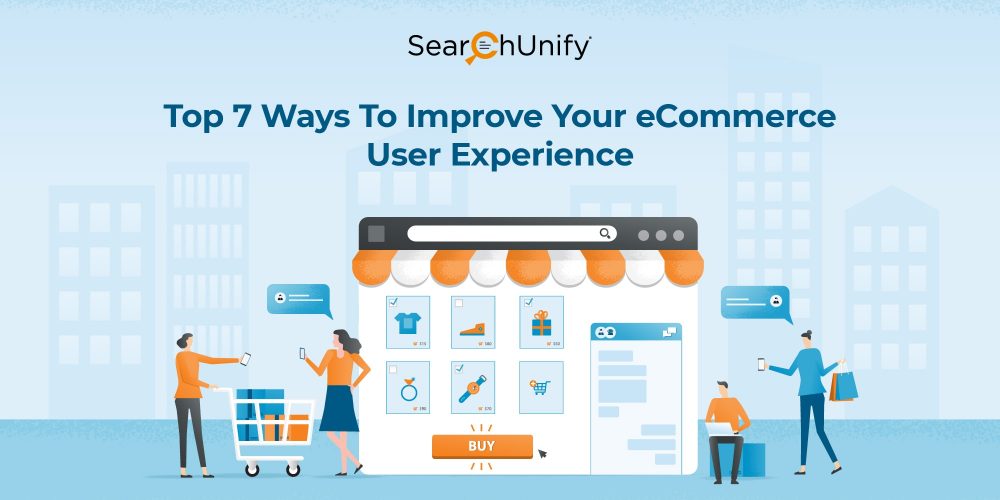 "If you do build a great experience, customers tell each other about that. Word of mouth is very powerful." – Jeff Bezos, Founder, Amazon
It is estimated that the eCommerce industry has blossomed to 24 million online stores. However, only 650,000 generate annual sales of more than $1,000. This implies two things. First, the paradigm shift from brick and mortar retailers to e-stores has empowered us to purchase almost everything without stepping a foot outside our homes. Second, even though e-commerce stores have mushroomed in the last few years, only a handful of them have been able to create real impact.
A lot of it has to do with providing—or surpassing—the kind of experience shoppers want. There are plenty of reasons why a seamless UX is paramount to the success of your e-store:
A good shopping experience will drive customer loyalty and sales.
Shoppers—as much as 44%—tell their friends and family about a bad online experience and 81% of consumers trust their advice over businesses.
After one negative experience, 51% of customers switch to competitor brands. This will ultimately lead to diminishing sales.
Put simply, the numbers speak for themselves. UX impacts your bottom line. Now, the burning question is how do you improve the UX on your eCommerce site? Here's the answer:
1. Take Product Page Loading Speed Seriously
Unlike a cup of coffee that is best enjoyed slowly, users prefer your website & product pages to be fast & responsive. Shoppers want everything to load in the blink of an eye, anything short of that is frustrating to them. In fact, your revenue suffers a major blow, as much as 1% loss for every 100ms delay in page load time.
That's the reason even social media giant Facebook made changes to its news feed algorithm to prioritize links that load quicker. For your eCommerce site, you can reduce the page loading time by minimizing CSS, HTML & JavaScript i.e, removing any unnecessary code from the site. Resizing images without losing quality ensures quick loading time as well. Employing a Content Delivery Network (CDN), a technical term for a distributed network of proxy servers and their data centers, that provide faster content to users based on their geographical location, helps too.
2. Strive For Simple, Yet Seamless Navigation
The findability of items has become the holy grail of the eCommerce industry. Generally, online shoppers fall under three categories. People who already know what they're looking for; people who've come just for window shopping; and people who don't exactly know what they want & require assistance to figure it out.
In the first scenario, they will use your search bar to find what they need. Here, you can step up the game by making their search experience relevant. If you're not sure how, this will help. For the second kind, a minimalistic design approach with clearly visible essential items (search bar, CTAs, etc) will provide a smooth browsing experience. And for the third category, you can leverage facets that help users navigate through the sea of product categories.
3. Make It Personal For Every Shopper
You can have online shoppers swooning over your brand by adding personalization to your UX strategy. When you send proactive recommendations customized according to every user's interests, it not only breeds confidence & love for your brand but also boosts sales and conversion rates.
Here again, it's the search engine embedded on your site that can enable you to do a host of things. For instance, an AI-fueled search engine analyzes user behavior—product views, clicks, add to wishlist patterns, etc. To predict the products a user might like and then proactively recommend them. It also suggests products based on user actions in real-time & purchase history as well to provide "individualized" recommendations.
4. Design, Not Just To Attract, But To Sell
There are minute things that many vendors tend to ignore only to deal with their adverse effects later on. Design is one of them. Product information like price, availability, shipping options, sizing charts, etc. needs to be highlighted clearly, all the while ensuring it's easy on the eyes.
Additionally, great product photos at different angles, and videos in some cases, are very important to give users a feel of the product they're buying. It bridges the gap between online and offline experience. SHEIN fashion app not only has a great collection of product pictures but also offers reward points to the customers who upload their pictures with the purchased items. This way, it keeps the existing customers hooked while also helping prospective buyers get a better sense of the product. A win-win, right?
5. Optimize For A Cross-Device And Omni-Channel Experience
Thanks to the wide variety of social media channels available, being "everywhere" is the defining need of our times. That's why most businesses are multichannel and customers can connect via website, Facebook, Instagram, etc.
But you should also note that some of your visitors could be searching via multiple devices like mobile phones, tablets, and laptops. So, in addition to integrating all the channels seamlessly, for providing uniform brand messaging, you also need to optimize the user experience for screens of different sizes.
6. Provide A Shopping Assistant
I don't know about you but in case I am unable to find something in a store or stuck while choosing between similar products, I resort to asking a sales rep and the world is easy again. Things are different for online stores but a few things remain the same – numerous customer questions related to delivery, shipping, or the need for in-the-moment guidance.
You can tackle all these problems with AI-driven chatbots. They're available round the clock and get trained in a pinch of time. I am not talking about simple bots that can't go beyond scripted conversations and succumb to meaningless responses when presented with an out-of-syllabus question. To truly unlock smart interactions, you need search-aided bots with powerful data indexing capabilities. They rely on strong Natural Language Understanding (NLU) algorithms & pave the way for sales & conversions in your business. Here's a comprehensive ebook for more information.
7. Make Checkout Easy & Transparent
The global cart abandonment rate is 75.52%. Shocked? Once a shopper has decided to go ahead with a purchase and is at the checkout page, things should be really clean and simple. At this stage of the game, cumbersome processes will simply blow it. Provide clear CTAs and standard UI so that there's no last minute confusion.
The customers of today value hassle-free, simple yet secure checkout processes. As an additional layer of cushioning, you can reiterate key information like delivery address, cost breakdown, special instructions, etc. This further instills confidence that everything is in order and helps improve the cart conversion rate.
Want To Know More About Improving User Experience?
To truly match the pace of current user expectations, you need to adopt cutting-edge technologies with a key focus on your search. By adding cognitive search to the mix, you can provide enhanced UX and improve conversion rates. Download this crisp ebook to know more.