Time to Clean Your Content Using Search Analytics
According to Missouri University of Science and Technology's eye tracking research, their subjects took around 2.6 seconds to scan a website. That's the time you got to impress your site visitors.
To effectively engage your site visitors, you must be able to proactively deliver what they're looking for; you must empower them to find the most relevant information when they search for it.
To ensure that the most useful and relevant information reaches them when they search for it, you must maintain your content repository with only high-performing content in it. For that, you need to identify the most useful content in your repository, weed out the low performing content, and make the useful content easily accessible and searchable.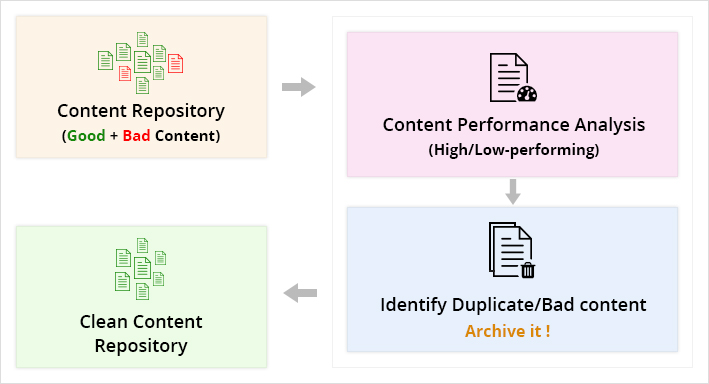 The Working Mechanism of Search Analytics
Get Greater Return out of Your Content with Search Analytics
Simply follow the three steps explained below to get better returns from your content.
First, measure content performance
Real-time search analytics helps you dive deeper into the user search behavior and your content usability. Using search analytics, you can see what content users are searching for, and whether or not they're finding the search results helpful.
The number of clicks on a search result defines its relevance. You can track such conversions with analytics to separate the relevant content from irrelevant pieces.
Second, manage the quality of content
Look for results with the least number of clicks using search analytics. Weigh these results on grounds of quality and analyze the possible reasons. Thereby, either remove or restructure these content pieces based on your analysis.
Take a look at the page view time for particular content pieces. Optimize the content length, if required. Again, readers don't have the time to go through an extremely long piece. Therefore, support your content with rich text and media, and track its performance continuously.
Identify duplicate content or content matching up to 70% and archive or reframe it to avoid the risk of losing a lead.
Third, make useful content more searchable
Identify the number of times results are displaying irrelevant content. Consequently, wash out the bad content from the archive.
Use analytics to get reports related to content classification. You can identify the content that's not categorized and sort it thereafter.
Convert your high-performing content into reusable content snippets to embed them into other big pieces.
Analyze the usability of your content with an enterprise search solution
SearchUnify's real-time analytics empowers you to deliver outstanding customer experience.
Wait for our next blog to catch up on how to ensure that only relevant content is generated and displayed to your visitors. Or request a demo to see SearchUnify live in action.