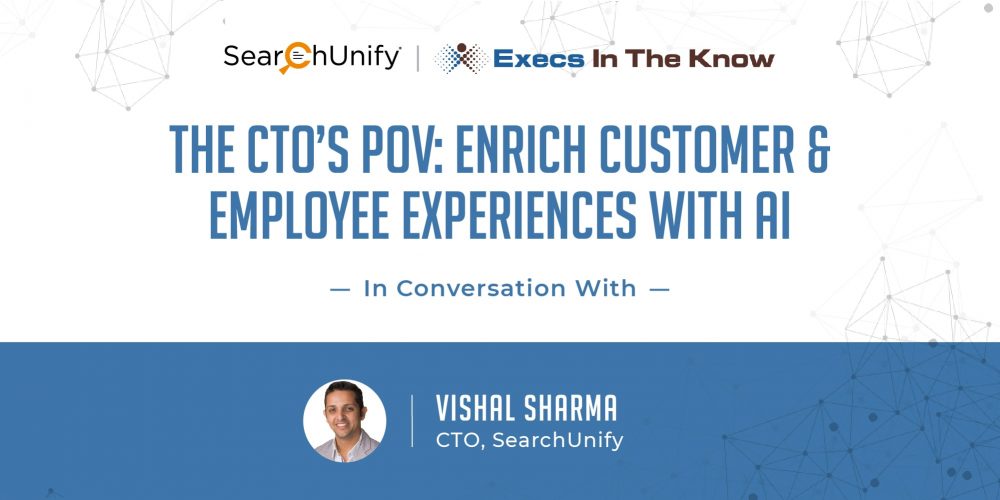 For a business to remain profitable in the long run, it needs to have a solid foundation, right? For that, the management focuses on sales, marketing, engineering, etc. Unfortunately, the way people feel about the organization is seldom on top of their list.
If you're lacking in that department, the revenue will go downhill despite how good you are at everything else. To shed more light on the subject, I sat down with Vishal Sharma, SearchUnify's CTO. Vishal is an epitome of passion, knowledge, and a take-charge attitude that made this interview an absolute delight.
His journey in the tech world started over a decade ago. Over the years, he has donned many hats—directly and indirectly—such as sales, technical support, solution architect, product management, etc. All these roles pointed in one direction: experience.
Without further ado, let's get to it.
Karan: Okay, so I'll begin with an easy one, Vishal. How would you describe CX & EX in the simplest way?
Vishal: I think customer experience is like a marathon without a finish line. It starts when prospects first interact with your organization. From there on, the kind of journey they have (including post-sale interactions and support) forms the basis of their experience. And since post-sale interactions and support never stop, the marathon also keeps going. Positive CX turns customers into patrons who then start vouching for you. And that's big.
Similarly, employees' journey starts from the moment they apply for a position. It includes everything from the selection procedure, onboarding, operational procedures, and information access. So, anything that helps to make them productive and happy improves their experience. This way, word of mouth again comes into play and gives you access to a bigger pool of talent.
Karan: Quite an interesting take. Now I'm curious, what made you realize that experience matters?
Vishal: Well, to be honest, there wasn't a particular incident or day when I just had a eureka moment like 'Oh, what people think about you matters.' I always strived to keep the customers happy with the best solutions. But over time, it dawned upon me that sometimes, it's not just the product or workplace that needs to shine.
You may be providing the best product or environment, but if at some point people get the slightest feeling that you're not taking them seriously, they will leave. No two ways about it. So to answer your question, I believe it's all the teams I've worked with that helped me develop a broader sense of what people care about.
Karan: Alright. And do you think organizations are going about it the right way?
Vishal: Oh, so you just had one easy question in store for me, huh? Anyways, most leaders are now aware of CX and why it matters. In fact, a Gartner study revealed that more than two-thirds of companies are now competing on the basis of CX. Now, this is where things get interesting, all right? Another Gartner report states that over 70% of CX leaders struggle to design projects that increase customer loyalty and achieve results.
Karan: Ouch, that must sting. And are things sailing smoothly for EX?
Vishal: Karan, I wish that were true, but it's simply not. You see, 80% of respondents in a survey rated employee experience as "important" or "very important." However, only 22% of them believe their organization was "excellent" at establishing a differentiated employee experience. So bearing that in mind, I'd say that widespread awareness is there, but when it comes to turning vision into reality, we've got a problem.
Karan: That's alarming. Why aren't executives doing something about it? Can technologies like AI and ML help?
Vishal: They sure can, Karan. But one of the biggest hurdles that decision-makers are facing across industries is the lack of tools to gauge how good or bad the experiences are. Core technologies like AI, ML, natural language understanding (NLU) provide the only ray of light. However, there's a little roadblock on the way.
The tech is still new and that presents an altogether different challenge. Lack of documented proof of long-term effectiveness means brands aren't willing to be the beta testers. On the flip side, any further delay could lead to catastrophic results. This clearly has the potential of leading your customers, prospects, and employees astray.
Karan: That's quite an insight, Vishal. So according to you, what are the prerequisites for customer & employee delight?
Vishal: Ah, that's an interesting one. When you talk about the customers, they now expect uniform experience across channels and devices, instant access, personalization, and complete privacy. See the irony here?
Similarly, the present-day employees want the ability to work remotely, use their own devices, and much more. They are no longer confined to a desk. No matter where they are, they need to feel right at work. This means you need to facilitate collaboration, upskilling, and information discovery & access among your remote working teams.
Karan: And what would be the best way to make it happen?
Vishal: Here's a fun fact for you. Companies that excel at customer experience have 1.5 times more engaged employees than less customer-focused companies. Engaged and enabled employees would gladly walk the extra mile to aid customers and drive CX. And I reckon that's the key to nail two needs with one deed.
Want to know more about experience-enhancing AI and how it makes the going a lot easier?
You can register for our upcoming webinar titled 'Double Win: Transforming CX & EX with AI.' We've invited Chad McDaniel, Execs In The Know's President for an in-depth discussion with Vishal that explores little-known tips and tricks for leveraging AI. Register here