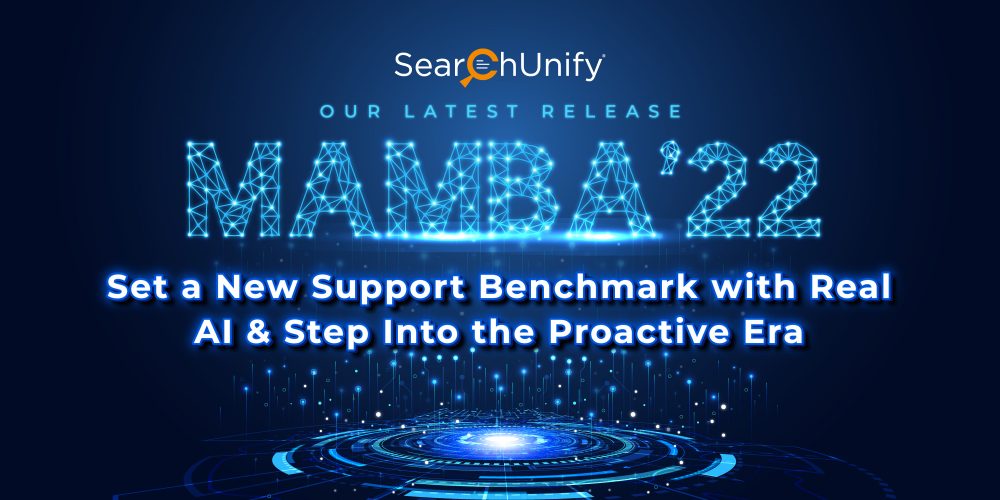 How you doin'?
Absolutely thrilled to share that another power-packed release, Mamba '22, is out now!
We've been working on ameliorating support experiences for quite a while, and Mamba '22 takes massive strides towards the same. It optimizes the workflows of customers, support engineers, and their managers. Additionally, there is a truckload of enhancements across our suite of support applications.
There's also a whole slew of other functional and cosmetic upgrades that will make the SearchUnify console a whole lot simpler and intuitive.
Here's a full rundown of all things new.
1. App Tray
The entire arsenal of support applications has undergone massive changes to help you extract more insights and drive greater value.
a. KCS Support Console
A brand-new KCS Dashboard is now part of the application. It will provide everything you need to oversee and regulate your KCS initiative.
Simplified configuration: Setting up the app has become quicker. There's just a three-step process that will deploy it on all your preferred search clients.
Evaluate KCS adoption: It now gets a dedicated space to help you see the impact of your efforts and how well KCS is incorporated into your workflow. There are four reports.

Overview: It shows the status of all KCS-generated articles, both published and unpublished (draft).
Support Effectiveness: It helps KCS practitioners see how effective KCS is proving to be in closing tickets. It gives the ratio of cases where KCS played a role (KCS-generated articles shared or attached to cases) to total cases solved.
Contributor Analytics: See which support mavens have been your KB MVPs. It reveals the number of articles they authored and how many times they were shared or linked to support tickets.
Low Impact KB Articles: Identify the KB articles that failed to leave their mark so that the managers can review them and share feedback with the respective agent, if necessary.

Extend your KCS efforts to Zendesk: The goodness of KCS Support Console has found its way to Zendesk.
b. Chatbot
The much-acclaimed chatbot has also received quite a few upgrades under the hood.
Analytics Dashboard: This space aims to help evaluate your chatbot's performance. It offers insight into:

Overview: It outlines four things: Total Sessions, Total Conversations, Successful Conversations, and Coverage. Total sessions include all the search sessions where chatbot was engaged. On the other hand, Total Conversations are all interactions the chatbot had.
Successful Conversations: The primary objective of a support chatbot is to deflect tickets, right? So, when the chatbot deflects, the conversation is successful. But what is considered deflection? Well, you, the admin, can define that. There are nine criteria for your perusal.
Coverage: It reveals how many interactions were covered (bot successfully found intent & story). In simple words, it's the ratio of Successful to Total Conversations. This way, it helps admins ensure their bot can effortlessly deal with all known intents.
Chat Transcript: Get a closer look at all the user sessions where the bot was leveraged. It displays everything about the said sessions such as intents used, last activity, coverage, user feedback, etc.
Intents: It provides insight into the most used intents and the most triggered utterances within an intent.

Embedded feedback mechanism: What's the best time to ask for feedback on a chatbot conversation? Right after it ends! To that end, you now have an option to solicit feedback from the customers right after they have interacted with your chatbot. All the feedback is neatly compiled in the app along with the stories triggered, customer's yay or nay, and description for the same.
Try it before you implement it: Now feel free to tinker around the chatbot with a virtual beta. You can safely preview how your reworked stories will perform in the real world. If everything checks out, you can re-train the chatbot and then push it to the live environment.
c. Escalation Predictor
Time to bid adieu to unexpected escalations! Let's take a look at all the interesting new bits added to the Escalation Predictor.
Access escalation data within Salesforce: Seamlessly synchronize the data from Escalation Predictor to your Salesforce org. This way, your support managers can swiftly identify cases that need immediate attention and prevent escalations.
Acknowledge or overrule predictions: There can be instances where the admin feels the prediction is a false alarm. Either way, the admin can mark it as a good or bad prediction. Accordingly, the ML-based algorithm will be retrained.
d. Agent Helper
Sometimes, your service reps come across an issue that they're unable to decipher. That's where they need all the help they can get. And here's how they can get it.
Fuel Intelligent Swarming: A Slack integration within the app infrastructure allows the agent to instantly create a channel for the issue. It will include the top SMEs and agents for the given category of issue. This way, the best minds get together to resolve it. As a by-product, the agent who was assigned the ticket also learns and evolves.
2. Content Annotation
Content annotation is the process of categorizing and labeling data into predefined categories that help AI and ML algorithms understand it. This data can be in any format such as text, video, images, etc.
Imagine a use case where the task is to tag ten documents in a small community with product names. You can train AI to categorize the documents under one product or a combination of products as per their relevance.
However, this approach won't work in the case of taxonomy. One person cannot tag 10,000 or a million or so documents. However, content annotation can do that without breaking a sweat.
3. Insights Engine
The insights engine has stepped up big time. The plethora of new and enhanced reports include:
a. Searches with No Results captures follow-up action
This report has long played a key role in content gap analysis. Now, a field called Action Taken has been added that helps managers save the action they took to bridge the gap. This way, it simplifies reporting.
b. Solicit feedback on content & search
We already had the provision to collect feedback on content. With Mamba '22, we're taking it a step further. Now, once a user upvotes or downvotes a page, they can also describe what they feel via text. Similarly, the user can share feedback on every search result as well. And there you have it: quantified search experience. Sweet, right?
4. User Interface
The UI has seen a fair share of enhancements. Some of them include:
a. Define the relationship of search queries
Admins can choose how they want to treat search queries by setting the default search operator as AND or OR. Let's say I run a query "artificial intelligence."
If the default operator is OR, the results will include content with the keywords "artificial", "intelligence," or both. But if the operator was AND, my results would be limited to pieces with exact matches of "artificial intelligence." AND brings a broader stream of results whereas OR helps with specific searches and keeps confusion at bay.
b. Learn facet preferences
Help your end-users quickly find what they're looking for. Admins can enable machine learning for facet selection. As a result, a customer who always selects "smartphone" and "system updates" will start finding these selections already made.
c. Pin your most used search client
Admins no longer need to select a search client every time they log into the console. Just pin the frequently used search client and the instance will always have that selection in place in various menus.
d. Declutter All Content tab
Cut down the clutter on All Content tab by removing facets from the search results page. This makes a lot of sense for firms that have one too many content sources. And if all of them make it to the facets, it can become confusing for the end-users.
e. Improve Agent TAT
In customer service, every second counts. To that end, this upgrade aims to save a few seconds for your agents. When they copy and paste an article link for sharing with a customer, a hyperlinked article name appears.
f. Overhauled NLP Manager
A lot of options within NLP Manager have become simpler and sleeker. Some notable examples include Stopwords, Synonyms, Merge Facets, and so forth.
5. Integrations
a. Microsoft Teams
Now make the information residing in your business communication platform more accessible.
b. RSS Feed
Ensure the nuggets of information in your RSS feeds don't stay hidden.
c. Seismic
Improve the findability of all the crucial information in your sales enablement platform.
d. Joomla!
Search comes to Joomla! Now, all the people using the CMS can effortlessly find relevant information from across platforms.
Ready to Fuel Your Support Organization with Real AI?
We're on cloud nine. Why? Well, this may sound like a cliché, but this is our biggest and greatest release yet!
Mamba '22 helps you better realize the power of AI and drive more value from your digital infrastructure. It introduces oodles of new features alongside several handy improvements that enhance usability, facilitate decision making, and contribute towards a more fluid UX.
Like what you see? Would you like to know what more our platform has to offer? Then reach out to us today to see how SearchUnify can help your support ecosystem take the baton forward! Talk to someone today.