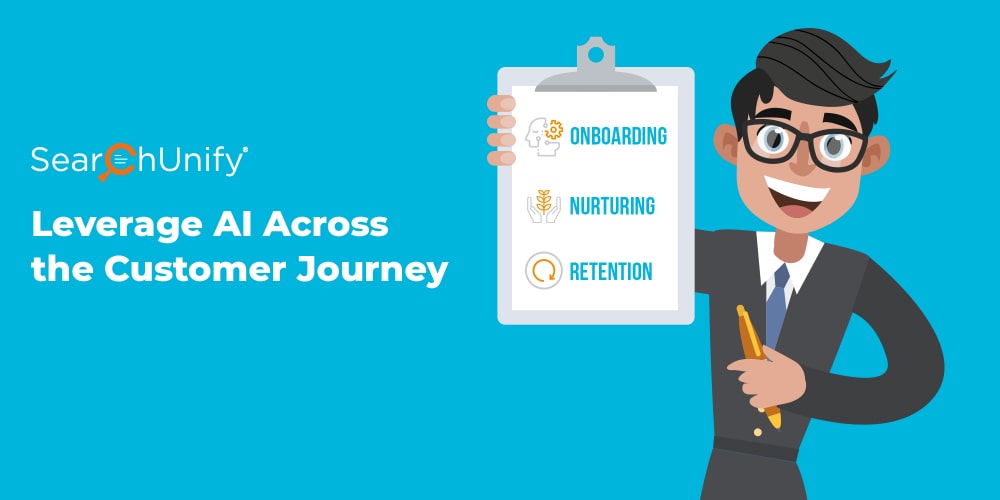 Closing a deal is not the end, only the beginning.
Good customer relationship is an outcome of great customer experience, and it influences retention, lifetime value, and expansion. So, you need to focus on delivering great experiences at each step of the customer journey after sales – from onboarding to retention.
70% of customers expect a company's website to include a self-service application. This figure is specific to the customers at the onboarding stage. 59% of the ones at the nurturing stage say that tailored engagement based on past interactions is very important to winning business. Speaking about retention, 33% of Americans say they 'll consider switching companies after just a single instance of poor service. These figures indicate that efforts are required at each stage.
AI for Different Stages of Customer Life-Cycle
When delivering great customer experiences at scale becomes a challenge, AI is the solution.
Here's how we can leverage it at each stage to drive customer success, growth, and loyalty.
AI for Onboarding
It is an important stage because key variables like client loyalty, growth, lifetime value and profitability depend on it. You need to be proactive at this stage and help beginners find answers to simple queries quickly and effortlessly.
You may have sufficient content for onboarding, training, and troubleshooting – tutorials, documentation, knowledge articles, and even user-generated content. Still, for anyone new to your site, community, or help portal, the first question will be – where do I find this information? And their first action will be to locate a search box on the site, community, or portal.
You, therefore, need to make your site or community as user-friendly as possible and that search box easy to locate, and upgrade your site search, or federated search to cognitive search to deliver an impeccable user experience. It's particularly useful for hasty leads who just skim through the website/community looking for keywords for a quick transaction of information. Search powered by AI has the capability to learn from user behavior and present solutions accordingly so that new customers get information in easy and digestive steps and get on board quicker.
To complement cognitive search and intelligent navigation, add a chatbot to the mix. Always-on and cross-channel chatbots provide seamless transitions.
AI for Nurturing
After successful onboarding, you want to focus on customer growth, for which you have to nurture them. AI-powered search and chatbots take care of onboarding and basic troubleshooting. Still, your customers will face complex issues, for which they'll reach out to your support team. Here, you want to equip your support agents with AI-powered search within the support platform they're using. It understands the customer query in its context and delivers the most relevant answers.
Another capability AI empowers you with at this stage is – constantly analyzing which customer queries are left unanswered and require attention. Get detailed reports and create necessary documents to fill the existing content gaps.
AI for Retention
A five percent increase in customer retention can lead to an increase in profits of between 25 and 95 percent. Having known that, companies lose 71 percent of consumers due to poor customer service.
Inarguably, it requires more effort to retain customers. Customers do not like being told the same solution over and over again. Well, who does? AI has the capability to understand what the users have already searched and present a new solution next time. Similarly, by using customer sentiment analysis along with advanced AI you can prioritize cases and tailor support accordingly.
Want to Leverage AI across Customer Lifecycle? Try SearchUnify
SearchUnify is an advanced AI-fueled search platform and offers much more than traditional enterprise or site search. It understands customer intent and provides relevant and personalized results. Watch it live in action. Get a free demo today!