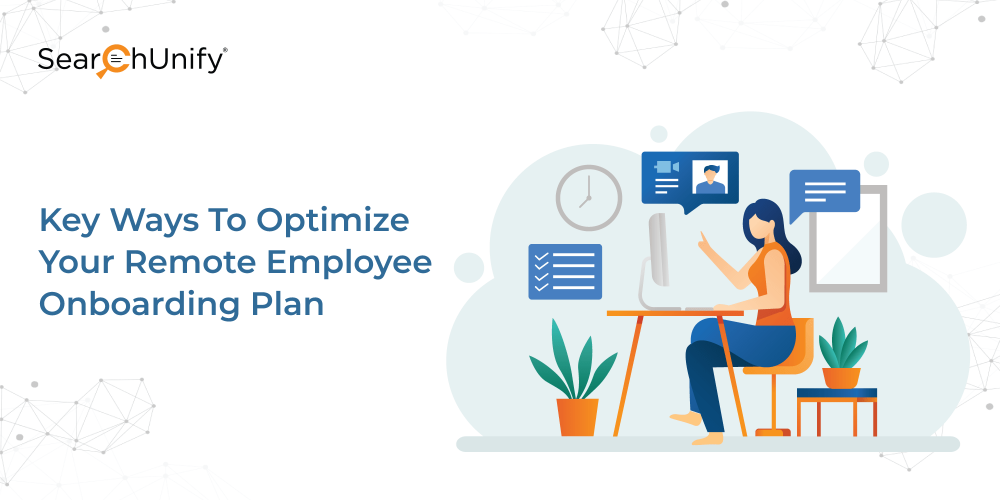 It wasn't long ago that companies connected the dots between motivated employees and enhanced productivity, and the word "onboarding" entered corporate jargon. The goal of having a clear-cut employee onboarding plan is to introduce new recruits to the company, their roles & responsibilities, and address any questions.
Poor onboarding means they don't have a fair idea about their job, processes, etc., which can lower employee morale and productivity. This will ultimately result in an increased employee turnover rate which can cost a company 100-300% of the employee's salary in total. On the contrary, organizations with a strong onboarding process improve new hire retention by 82% and productivity by over 70%.
Now if you add the word "remote" to the process, it becomes an altogether different ball game. Remote onboarding comes with its own set of problems. And I am not talking about getting the infrastructure in place, but the issues that crop up later. This blog post addresses those challenges.
Why Onboarding Employees Remotely Is Difficult
Avalanche of Information
It doesn't matter how intricately the HRs organize orientation and training sessions, the fresh recruits are bound to feel overwhelmed with all the new information. On top of that, there are two limitations to this approach. First, these sessions are hardly curated to suit team-specific needs and are more or less generalized. Next, they don't have the luxury of asking the next-desk co-worker to clear any doubts. That makes getting accustomed to the new job a tad difficult.
Ineffective Communication
A new job often entails paperwork, training materials, policy education, etc. Although the HR teams communicate these requirements well in advance, sometimes the employees have questions but no idea about the right channel to ask them. This can create problems at a later stage.
Merciless Time Zones
Working in any kind of business and making it successful requires effective collaboration amongst teams. But when your teams are spread globally, the difference in time zones can create difficulties for those new to the organization. They are just beginning to understand the rules, let alone collaborate effectively. What if one of your new hires, who is in a different time zone, requires help and has no one to answer the query? It not only creates a bad experience but also risks poor outcomes.
Workplace Isolation
Remote onboarding might instill a feeling of loneliness amongst workers since they are working alone in their homes. Unlike the employees that get to experience the cultural delights of office place, working together to solve problems, remote hires might experience a feeling of isolation.
Generic Training Material
A lot of companies focus on creating rich training material and making it available on LMS. But even these apps can be flooded with information related to different teams across the enterprise making it difficult for remote workers to get the most out of it. What a new hire in a sales team needs to learn is different from what someone in the product team does, so the training material should be optimized to suit the needs of each hire.
How Cognitive Search Can Save The Day
Easy Knowledge Discovery
Cognitive search has the ability to index disparate content repositories and resources across the company. This enables your employees to seamlessly access information without having to switch tabs or portals. So, all your newly hired remote employees need to do is just type their query in the search bar and voilà! All important information at their fingertips.
More Collaborative Learning
To make the onboarding process smoother and more efficient, firms often create chat groups or even set up communities. While it's a good practice, it can be made great with SearchUnify's community helper, a nifty bot that drives engagement on communities by handling queries, round the clock. Built on powerful AI-based algorithms, it understands the questions asked and scans the entire database to auto-respond with helpful articles, taking employee self-service to a whole new level. And the best part—they're always on, which means assistance is available round the clock.
Optimized Channels
Most new remote workers feel demotivated & disengaged not because they don't have enough tools to their rescue, but because they aren't optimized to suit their needs. For instance, when your new employees are looking for information, they have channels like your intranet, internal communication platform, employee community, etc. Faceted search on these channels allows them to search within particular categories—content sources, content types, categories, objects. Smart search solutions automatically select relevant facets based on the employee's behavior, showing them relevant results. Having access to the relevant information when they need it breeds confidence in newbies.
Periodic Fine-Tuning For Improvement
A cognitive engine is also a source of rich insights that can be used to make smarter decisions & provide an enhanced remote onboarding experience. Many companies usually devise a 30/60/90 day onboarding plan. With an AI-fueled engine, you get detailed and user-friendly reports that can keep tabs on your newest employees and highlight any areas where they seem to struggle. This helps in fine-tuning content and filling the gaps, which in turn improves the entire onboarding experience.
Personalized & Relevant Suggestions
A smart search engine embedded at your platforms uses advanced machine learning (ML) and Natural Language Understanding (NLU) algorithms for suggesting relevant videos and other content based on user behavior and search patterns. This can also be used to display dynamic recommendations that suggest the following or related items from the training plan. This makes the entire experience enjoyable and less frustrating.
Want to know how to zero down on a cognitive search solution for your organization? Here's an e-book for you!
While it's important to have good tools for work management and collaboration, it's highly recommended to have all the processes integrated and optimized to suit individual employee needs. And cognitive search helps with it, big time.
If you want to dig deeper into which cognitive search solution will best fulfill your organizational needs, here's an ebook that should do the trick.