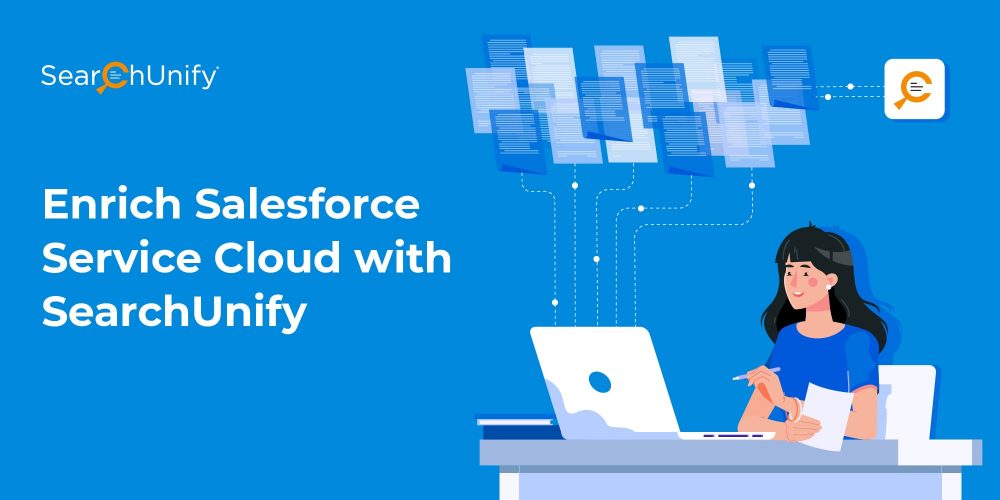 A study by Interact suggests that 19.8 percent of business time – the equivalent of one day per working week – is wasted by employees searching for information to do their job effectively.
Support agents spend most of their time in Salesforce® Service Cloud. They need quick & relevant information to resolve customers' queries, but have to sift through multiple information sources (support portals, product documentation, CRMs, CMSs) or applications (intranet, extranet, emails, databases) to reach the right information.
Helping agents fast-track case resolution time and improving their productivity remains the holy grail for most customer support teams. Not only does it make them face the chill wind of higher support costs, but also of reduced customer satisfaction.
What's the Solution?
A unified system that provides them quick access to all enterprise information inside salesforce along with insights into what did and didn't help customers is the prime solution. It could boost their case resolution time significantly while increasing your CSAT.
SearchUnify for Salesforce Service Console
SearchUnify is a cognitive search solution that empowers support agents with the information they need to resolve customer queries in real time without leaving the service cloud console. Leveraging core capabilities of AI search such as machine-learning and contextual understanding, SearchUnify displays the most relevant content from multiple information sources, every time.
How SearchUnify Enhances Salesforce Service Console
SearchUnify empowers your support agents to achieve customer success by leveraging powerful search features along with handy tools and applications, which maximize support productivity.
Easy deployment and effortless management: Deploy the AI search solution within minutes, not months – faster than all comparable solutions – leveraging its native integration capabilities with disparate information sources, simple UI setup, and user-friendly console.
Multi-platform search within Service Console: Enable your support team to swiftly search for the right information across multiple digital platforms (communities, CRMs, knowledge bases, CMSs, and support portals) without ever leaving the Service Console.
Optimum use of screen real estate: Provide your support agents with a compact, all-in-one search console, which has advanced features and single click tools, such as instant preview. This helps agent access the right information quickly and accelerates the case resolving process.
Highlighted snippets in indexed results: SearchUnify ensures that the matching search terms are highlighted in search results. It helps support agents identify the best article faster and significantly reduces the number of clicks.
Complete search results preview within console: Unlike other search solutions that display only titles in search results, SearchUnify provides complete preview of the results within the console. Your support rep needs to only hover over a search result for instant document preview.
Quick linking of case-resolving content to cases: Embed and share identified case-resolving articles instantly with customers. Quickly link case-resolving articles or help docs to the respective cases for other agents to refer to when required, driving Knowledge-Centered Service (KCS).
Access to customer search history: Provide your support agents with easy access to customer search history. This ensures that a support agent does not share the articles that a customer has already seen before logging the case. They share further information for resolving the case, improving case resolution time and CSAT.
Detailed insights into agents' search behavior: Gain insights into how agents are searching for information and how they are using it. Take complete control of search results and relevance ranking. Conduct a detailed content gap analysis to optimize help documentation and search results for agents, enhancing their productivity manifold.
Are you ready to simplify your support agents' life yet?
SearchUnify enriches and extends your Salesforce Service Cloud Console, streamlining your internal support processes and enhancing your customer satisfaction score. Provide your support agents with an all-inclusive Service Console that offers AI-driven enterprise search along with single click solutions to step up your case resolution process.
To experience this firsthand, request a demo right now! In case of any queries, you can reach out to us at info@searchunify.com