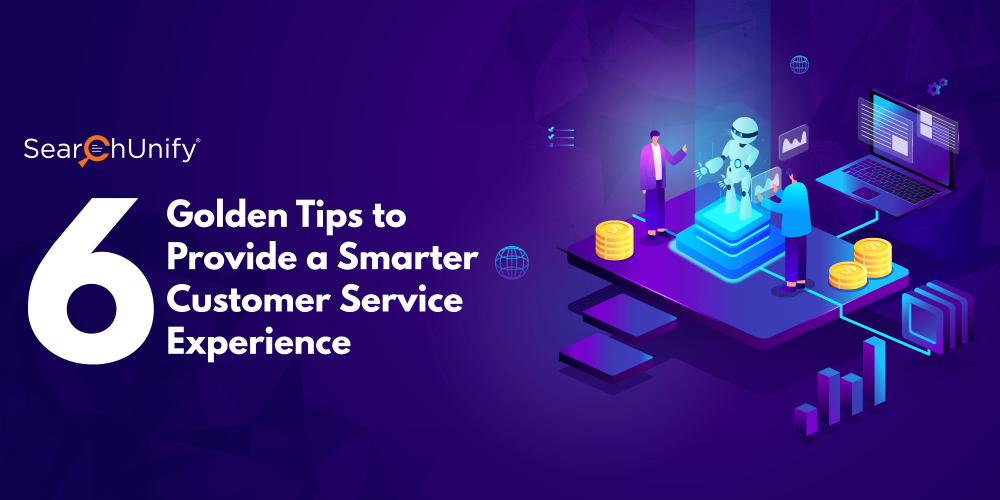 It's no secret that businesses are continuously trying to win on the customer experience battlefield with smarter service. And you already have everything in place to make it happen. Let's see:
Contact center ✅
Well-trained support staff ✅ ✅
Cognitive technology ❓😶
Did you not check the third option? Uh-oh.
Even if you did, there's a good chance you aren't leveraging its full capability to provide better customer service.
Customers crave services that outdo their current experience. To deliver that, first you need to be familiar with the latest customer service trends so that you can engineer your customer service practices accordingly. And in order to implement those practices, you need cognitive technology. Here are a few tips that can help you achieve more with cognitive tech.
💡 Tip 1: Accelerate First Call Resolution (FCR)
Don't you like it when you call customer care & they resolve your issue in the first two minutes of your conversation? Of course, you love it. That's the case with your customers too. 67% of customer churn is preventable if firms resolve issues the first time they occur (Source).
With search engines like Google giving answers to even the most difficult questions in the blink of an eye, customers now expect the same speed from every functioning business. This is where AI walks in. Advanced AI can be used to route cases intelligently and improve FCR.
Post-training, agents tend to develop a specialization in handling tickets for a certain category. So when a new ticket comes in, AI & NLP identify its type and priority based on speech patterns (over call) and keywords used (for tickets or email queries) and then route it to the best agent for the said issue. This improves the FCR and subsequently boosts CSAT.
💡 Tip 2: Speed Up Interactions with Automation
Digital transformation has only made the 21st century customer lazy. That's why the general consensus is to automate as many processes as you can. It makes your customer service efforts quicker, more efficient, and always on. It's estimated that by 2020, 85% of customer service interactions will be automated (Source).
There are a lot of mundane and repetitive processes that do not require human intervention and can be easily automated. On the other hand, tasks like hiring and training of employees are time-consuming. Even if you automate a part of it, say training, that time can be put to better use.
Additionally, you can deploy virtual assistants that leverage your knowledge bases to provide L1 level resolutions to customers. This not only reduces the burden on your support reps but also makes the support process smoother.
An AI-powered chatbot can analyze a ticket & suggest the next steps by linking a relevant page or knowledge article. God bless automation! And if the user doesn't find the response satisfactory, the bot can provide CTAs like connect with an agent, email support, etc. This enhances the hand-offs which further improves the overall customer experience.
💡 Tip 3: Make Communication Omnichannel
78% of boomers are turned off when they have to restart a conversation with a brand, which can lead them to consider discontinuing the use of a product altogether (Source).
Why wouldn't they? If they describe their issue once, they expect every channel of the firm to know about it. Fortunately, technology exists that can map a customer's journey across different touchpoints. Leverage it to identify what the user has been searching for or said across your portals to avoid asking the same questions.
Journey mapping can also be utilized to understand what the user has already tried and didn't work. Because if you, God forbid, suggest a solution that didn't help earlier, it's only going to annoy them more. Make your communication omnichannel to provide relevant results and increase the quality of conversations to reinforce their trust in you.
💡 Tip 4: Incorporate Self-Service Strategies
If you haven't provided self-service channels to your customers, you're already lagging behind your competitors. Self-service benefits include higher CSAT, lower support cost, reduced pressure on employees and reduction in repetitive tickets that underwhelm your agents. It is not only a boon for your customers and agents but also a big win for you.
These days, most customers don't want to call or drop an email to connect with your support representatives, no matter how polite or well-trained they are. 75% of people search to find answers to service-related questions before contacting the company (Source). They prefer solving their queries themselves as it saves time and effort.
Hence, you need to have an effortless, omnichannel & personalized self-service strategy in place. To achieve that, unify content across your help portals, communities, and websites with a cognitive search engine so that relevant answers always find their way to your customers. Download this ebook to know more.
💡 Tip 5: Personalize Interactions
Personalization doesn't just mean sending an email that greets its recipient by name. It's good but not good enough anymore! Customers want individualized responses. 72% of consumers expect agents to know about their previous engagements (Source).
And the best part is that it's not that hard to achieve. Users leave behind a lot of data. With the right technology, you can collect and effectively leverage all of it to create more personalized content and responses.
An AI-powered cognitive search engine analyzes user data across various touchpoints to present more personalized results. For instance, if you've gone through the product tutorial, the engine will start suggesting knowledge articles on setting up and fine-tuning the experience.
It knows you've already brushed up on the basics. A well-trained ML recognizes what is best to present to a customer because it trains itself to understand user intent from past interactions. This way, it personalizes every experience. To get to the bottom of this, read this crisp ebook.
💡 Tip 6: Solicit Customer Feedback
Brands are viewed more favorably by 77% of customers if they proactively invite feedback (Source). Customers feel important & valued when you ask for their feedback and act on it. Apart from that, it's a tried and trusted way to improve your services.
If there's something that's off about your services, change it. And if your customers prefer a certain trend or practice, incorporate it across different channels & processes.
Be proactive, ask customer feedback when they interact with you and act on negative feedback quickly so that it doesn't hurt your brand image. Prospective customers take feedback and reviews of former and current customers pretty seriously before they buy your product.
It's Time To Tick Cognitive Technology Off Your List
There's not a shred of uncertainty that you require advanced AI-based technology to refine your services and processes to meet current customer expectations. However, tech alone won't cut it. Your support agents need to bring their A-game. Luckily, AI can help you with that as well. Read this ebook to know how.