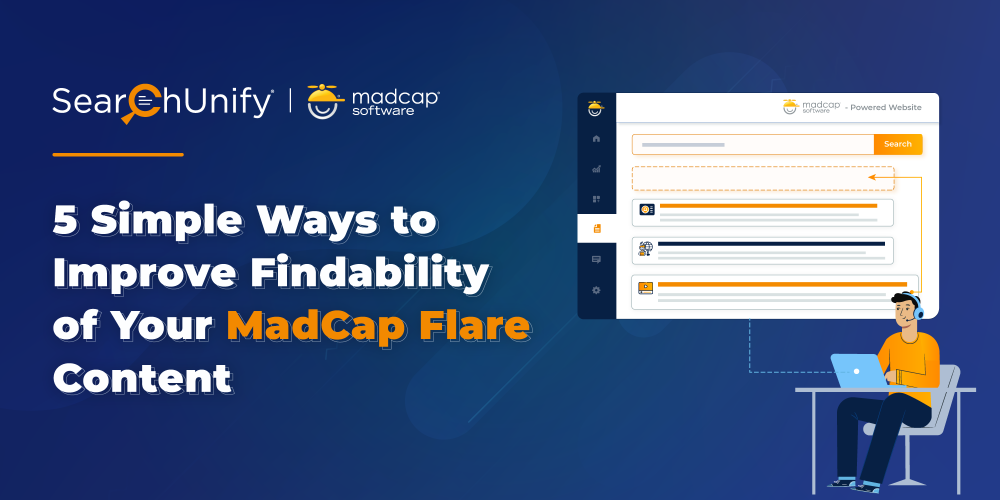 MadCap Flare is a powerful content management software used to create, manage, and publish content in a wide variety of formats and languages. It allows users to streamline the creation and multi-channel delivery of user guides, product training, knowledge bases, and more without possessing any technical knowledge.
But while the solution has become an indispensable part of many enterprises, it's yet to realize its maximum potential. Why? Let me explain.
In this information era, it is critical to disperse accurate information quickly. But siloed organizational data inhibits technical writers from finding and accessing content easily. That unwittingly hampers their productivity and content creation.
This is where cognitive technology truly shines. It lays a solid foundation for the successful retrieval and sharing of relevant information exactly when and where it is needed. It goes beyond the purview of search by integrating multiple content sources and guaranteeing relevance and personalization at scale.
How Cognitive Technology Perfectly Complements MadCap Flare
If you're wondering how cognitive technology accomplishes the feat of maximizing reach and consumption while unlocking the true potential of content developed on MadCap Flare, then continue reading!
1. Bridge Silos & Improve Information Discovery
Did you know? Data professionals are wasting on average, 30% of their time because they cannot find, protect, or prepare data.
This incessant hopping between platforms and tabs plummets the efficiency of end-users. Fret not, cognitive technology is here to flip the productivity paradigm. Its native connectors provide a tailwind to fetch the right information by indexing disparate repositories. Thereafter, users can break free from the shackles of the infamous 'swivel chair effect' and find content & documentation developed with MadCap Software easily.
2. Optimize Search Results for Relevance
What good is a vast ocean of organizational knowledge if the users still stumble upon static & irrelevant information? It's time to transcend basic personalization and maximize the potential of your MadCap Flare content by delivering more immersive, relevant, and personalized experiences. This is where cognitive technology saves the day.
It can comprehend user queries and subsequently rank relevant results. It mines data, including user behavior, historical click-throughs, synonyms, engagement rates, and page rating to deliver the right content at the right time. Alternatively, users can manually tune the results by customizing the ranking mechanism to ensure relevant information is always on top.
3. Power Smart UI with Intelligent Navigation & Facets
Imagine the plight of technical writers when they encounter a sloppy interface while trying to find relevant content from your MadCap Flare-generated website. Basic filters don't suffice anymore. What your technical writers need is something more intelligent and dynamic.
Luckily, smart facets and intelligent navigation can make their life easier. While the former enables users to fine-tune search results, the latter creates a navigation interface based on their browsing patterns. Some cognitive platforms can also display rich snippets based on the context of the query, thus taking your end-users a step closer to relevant information. This overhauled UI not only boosts CSAT but also lowers the site abandonment rate leading to higher conversions.
4. Glean Rich Insights to Fill Content Gaps
Outmoded content takes a toll on the UX and can drive your customers away. This is where an insights engine comes to the rescue and converts unobtrusive data into actionable and useful insights.
According to Forbes, companies that are advanced at being insights-driven outcompete the majority of less insights-mature firms by a wide margin.
It goes beyond the basic metrics to showcase trends and content consumption in real-time. It gleans actionable insights by closely surveilling user activity, search behavior, content usability, top viewed articles, page views per article, etc. That helps your writers identify and bridge knowledge gaps, thereby staying on top of their content game.
5. Contextual Search Experience Fueled by NLP
A report estimates the global NLP market size to shoot up from USD 11.6 billion in 2020 to USD 35.1 billion by 2026.
Different users search for the same thing in their own way. For example, if A searches for 'How to Embed Salesforce' while B types 'Salesforce Integration Steps', the results should be limited to Salesforce integration. So, if you want to return relevant results from MadCap Flare's data corpus, you must understand the intent of their search query instead of relying solely on keywords.
Cognitive platforms leverage NLP to extract intent and pump in relevancy into the results. What's more, it can identify and add multiple synonyms and abbreviations for a keyword or a phrase. So, irrespective of the permutations and combinations of a query, you'll always score big on customer experience.
Want to Simplify the Lives of Your Technical Writers?
Then, SearchUnify is your go-to solution. It leaves no stone unturned to provide a connected experience, amps up information discovery, and highlights the best-fitting results on the top of the page to increase user engagement. To witness how SearchUnify boosts consumption of your MadCap Flare content, download this datasheet or simply request a free demo today!