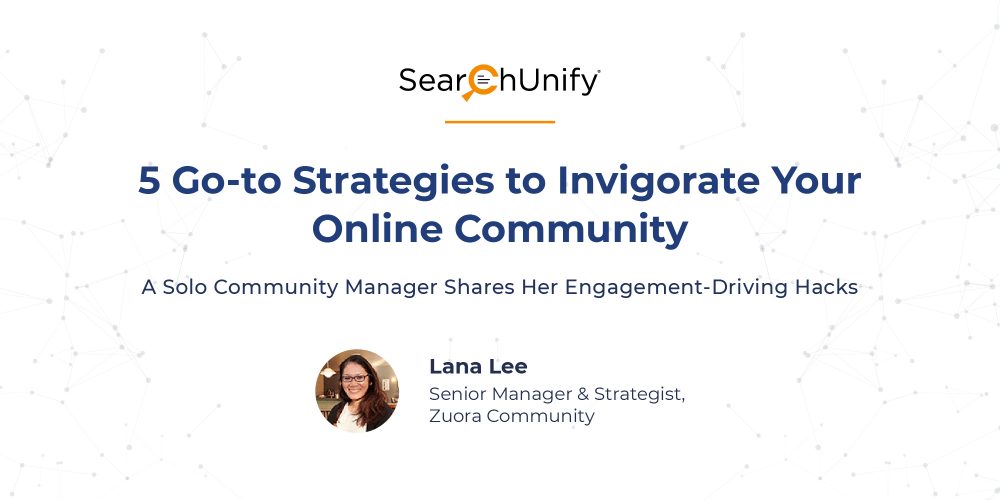 Everybody seems to be jumping on the community bandwagon. Having an online community, undoubtedly, has numerous benefits for your company–reduced customer support cost, more brand exposure & credibility, and customer insights.
But to turn your online community from a nice-to-have website to a strategic advantage requires a lot of blood, sweat, and tears.
Lana Lee, a Senior Community Strategist at Zuora, connected with community veteran John Summers for a quick podcast where she revealed five tips that worked for her and continue to engage visitors.
1. Using Gamification for Creating Interactive UX
Researchers strongly believe play is a huge part of any human experience. Communities are no different. That's why gamification has become a major driver for heightened engagement and creating a sense of belonging among users.
Take Sephora's Beauty Insider Community, for instance. It uses activities like '100 Shades of Eyeshadow Challenge' to fuel engagement and help members to connect. This not only creates a sense of 'community' but also turns customers into brand ambassadors. Similarly, if you have a support community, you can infuse gaming elements based on your unique products and services.
2. Creating Programs for Customers and Employees to Bridge the Gaps
Communities have come a long way from simply being a Q&A forum to a place of quality interactions. Lana introduced two Super User programs for internal and external users. Given the global customer base Zuora has and the striking differences between billing and financial systems across geographies, external Super Users help customers with region-specific queries.
On the other hand, the internal program focuses on motivating employees to be active members of the community and interact more with customers. This way, both the customers and employees stay engaged and connected. This functions as a guiding force for Lana to identify and bridge any product-related gaps in different regions, keeping her at the top of her game.
3. Interacting with Different User Groups at Regular Intervals
The COVID clouds have led to the cancellation of several noteworthy conferences and in-person events across the globe. But with an online community, this is a moment where community managers can shine. The interactions can be moved online and can be segmented based on user groups.
Now, the users won't have to travel and the community managers needn't worry about setting up in-person events locally to attract more people. Virtual meetings bring the world right inside their room on their screens in just a few seconds. These conferences and meetings with different user groups are extremely important for a community manager to keep an eye out for trends and serve members in the best way possible. Additionally, it's a great source to get the latest insights for new feature development.
4. Optimizing Content Discovery for Each User
We've all heard that content is king. But how do people find this content? By searching for it. A while back, Search Engine Land estimated that Google processes a whopping 3.8 million search queries per minute.
The same principle applies to online communities as well. Modern users prefer using a search bar than manually navigating. And if the search can't find what they need, they won't bother looking again. That's going to kill your community sooner or later.
To prevent that from happening, organizations have started upgrading to cognitive search engines. Zuora, for instance, uses SearchUnify. And to quote Lana, " it's our internal Google." A good cognitive engine integrates different content sources to find relevant answers no matter where they reside. It also analyzes the keywords used over time and auto-tunes the results for increased relevancy. Fueled by machine learning, it personalizes search results based on user search history, profile, and access permissions.
5. Promoting Your Community Internally for Increased Employee Adoption
Internal marketing is as important as external when it comes to community management. Why? Because community managers, be it solo or multiple, can't necessarily answer every question on the community, even if they want to.
This is especially true for support communities because of the technicalities involved in customer queries. An organization has different teams working on different features of a product, i.e., subject matter experts (SMEs). So it's important that your employees, new or old, use the community as well. This way no customer query goes unanswered and the employees get a clearer idea of customer pain points. A win-win for both!
Want to step up your community engagement game? Learn from Zuora's success story!
It's time for community managers to provide a holistic user experience to their community members. Apart from perfecting your strategy with the tips in this blog, adding a cognitive engine is vital to your community platform. It creates a better, more optimized experience. That's what Zuora says; download their success story to find out how.